Case Study

Creating a hub for teams and task management

Diving deep into systems thinking and problem solving to equip Walmart's frontline associates with the tools and processes they need to succeed in Walmart's new strategic store operating model centered around teaming and area ownership.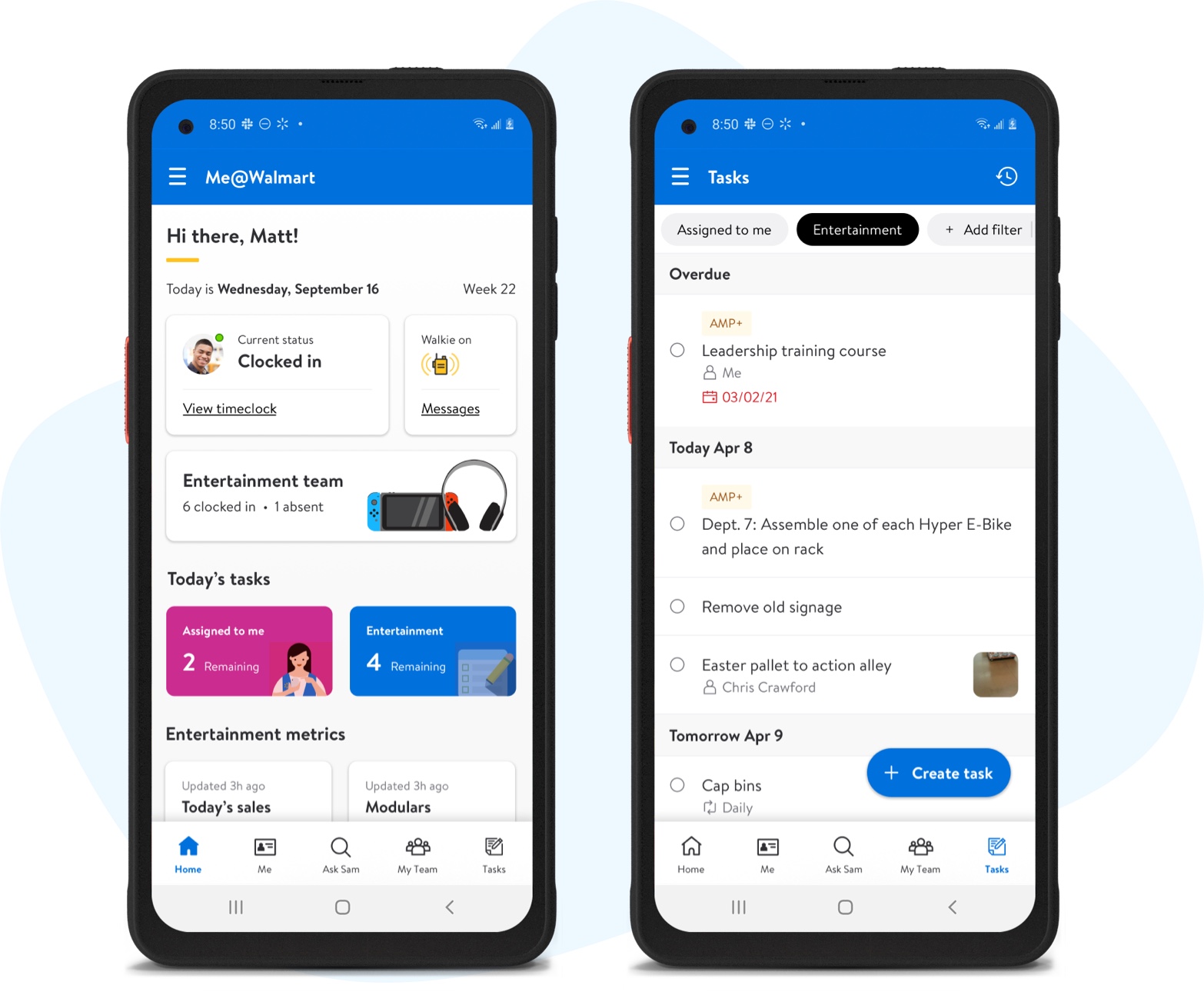 My Role
As design lead on this project, I worked with 1 other designer. Together, we collaborated with multiple product and engineering teams to define requirements, create deliverable timelines and facilitate GV style design sprints. From there, I led concept creation, wireframes, prototypes and product design deliverables while partnering with a researcher for validation and usability tests.
---
Overview
Walmart's been working to reshape the structure for store associates by transitioning to a new team-focused process and way of working called Teaming. New leadership roles at the store level have been introduced to lead teams in this new operating mode.
As stores start working in teams, Walmart is focused on equipping associates with the skills, tools, and ownership to work in new ways to deliver on Walmart's strategic priorities.
---
Challenges
Walmart's been a powerhouse for quite some time, but the downside of their maturity is the outdated legacy systems that house data — information is spread across dozens of different apps and reports making it hard for associates to find the information they need. Tasks, schedules and metrics — just to name a few — are spread across multiple applications. Finding this information, digesting it, and using it to run stores is time-consuming, difficult and costly. Last but not least, none of this data was organized or structured in a way to support the new teaming model.
Legacy systems
Outdates systems
Information spread across multiple apps and reports
This new way of working meant there wasn't much historical data to reference
Short turnaround time
Under 3 months to research, design and test
4+ apps needed to converge into Walmart's new core work app — Me@Walmart
The diversity of stores means making a one-size fits all solution challenging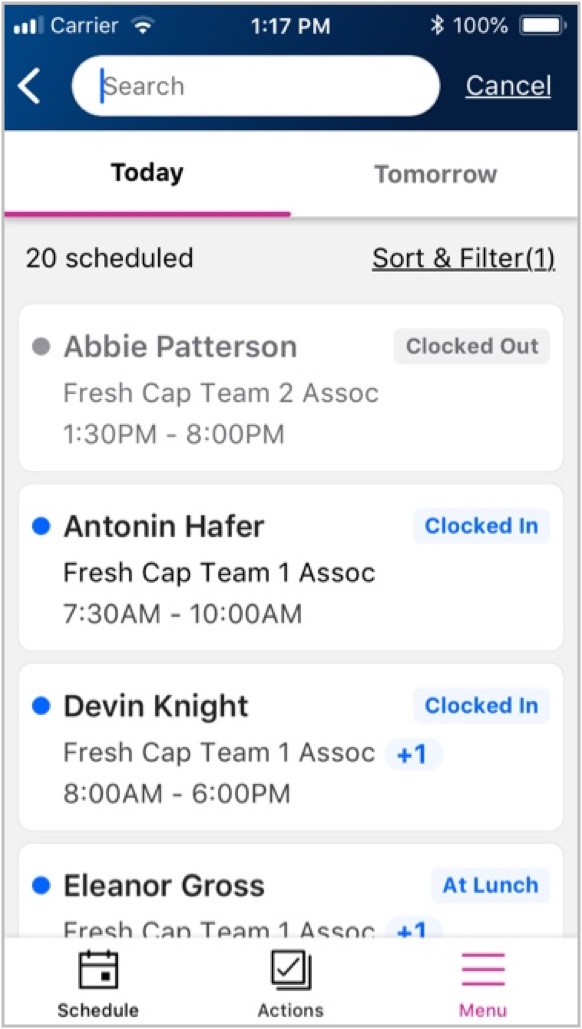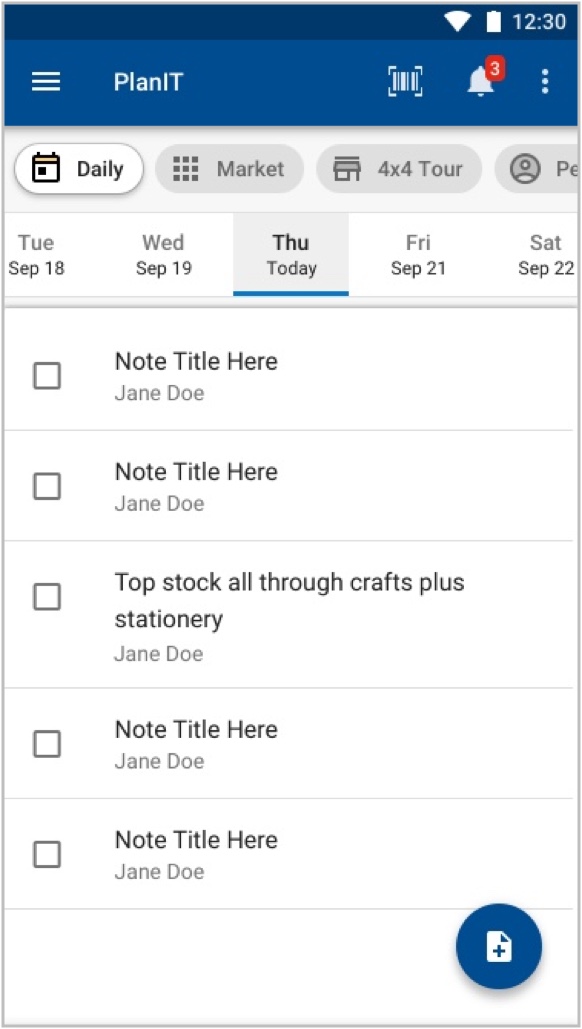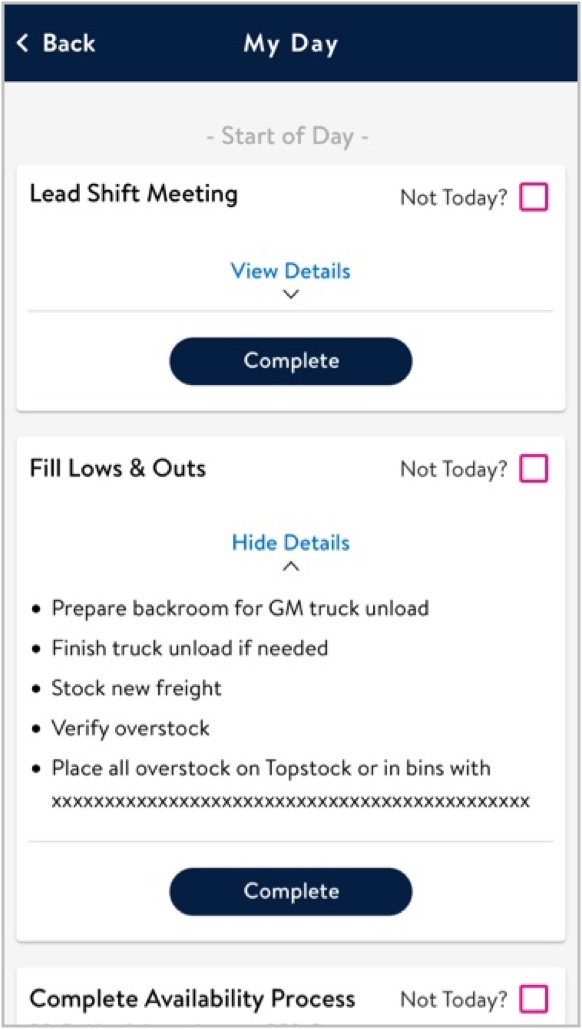 Key information was spread across 4+ apps, often with conflicting data. Additionally, the data was not structured to mirror Walmart's new teaming framework — adding another layer of difficulty in finding the information needed to succeed.
---
Design sprint to kick off the project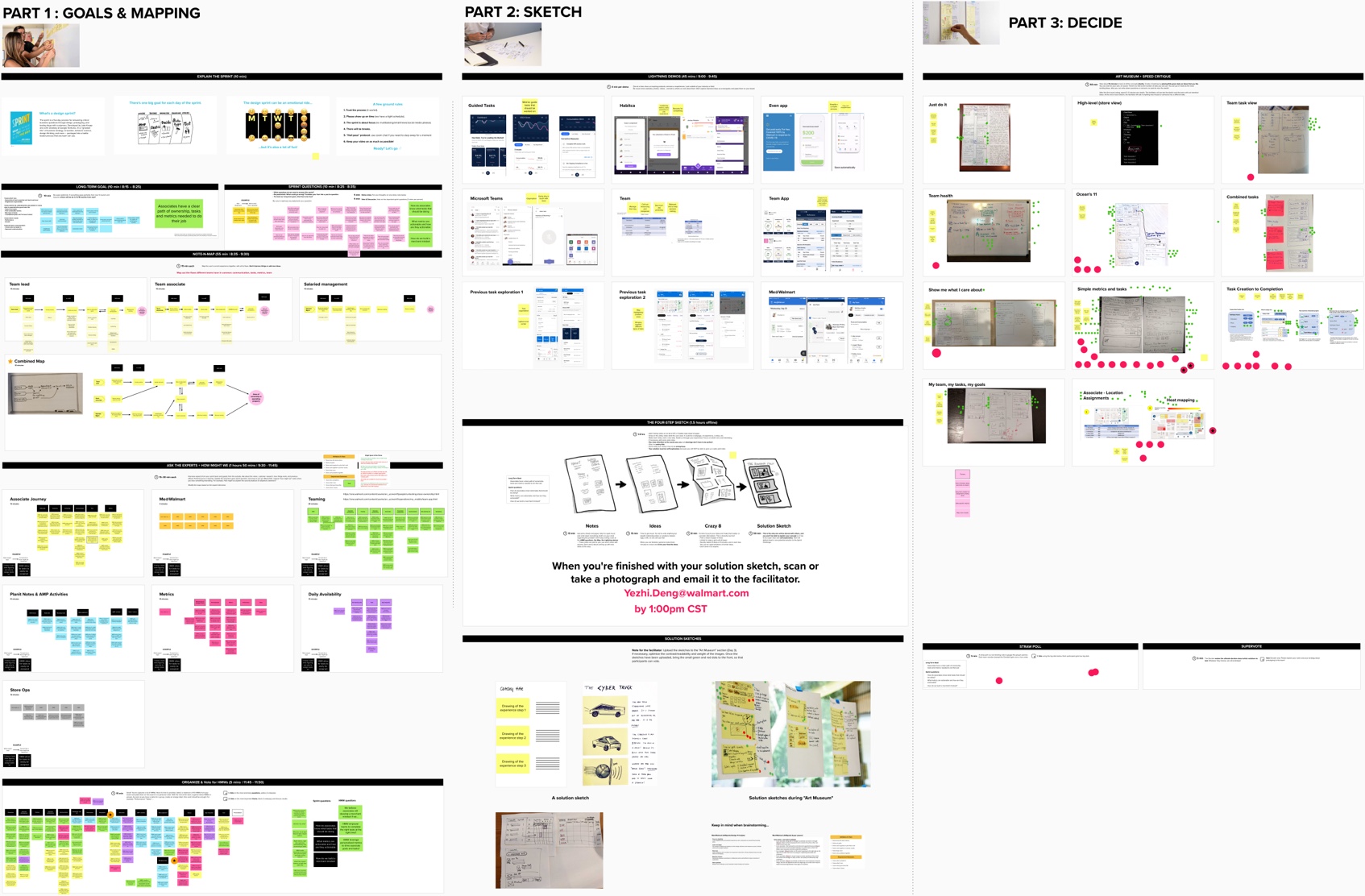 With so many apps and processes converging into one experience around this new teaming model, it was crucial to get alignment early. We knew there were a lot of issues, but we didn't know where to start or what problem to solve first. To kickstart the project, I facilitated a GV style design sprint. We partnered with product, design, engineering, and business during the sprint and invited 7 experts from different areas of the business to share their knowledge of store operations and existing applications.
Thanks to the sprint, we had two big HMWs:
1. How might we leverage personalized metrics to drive associate goals and tasks?
2. How might we empower teams to complete the right tasks at the right time?
And a new long-term goal
We also had our new long-term goal of giving associates a clear path of ownership, tasks and metrics needed to do their jobs.

Initial explorations and sprint prototype
With our new problem and sprint questions in hand, we set out to create flows and prototypes based around the sprint's winning solution and questions.
Our initial flows and prototypes focused deeply on the teaming aspect of owning specific tasks, extremely personalized metrics and working with just your core team.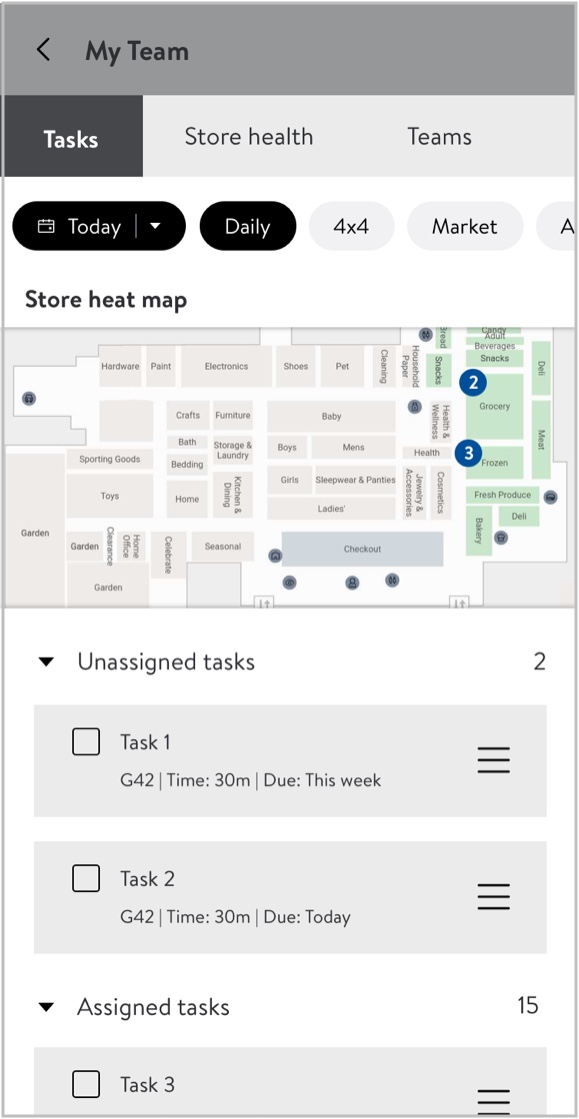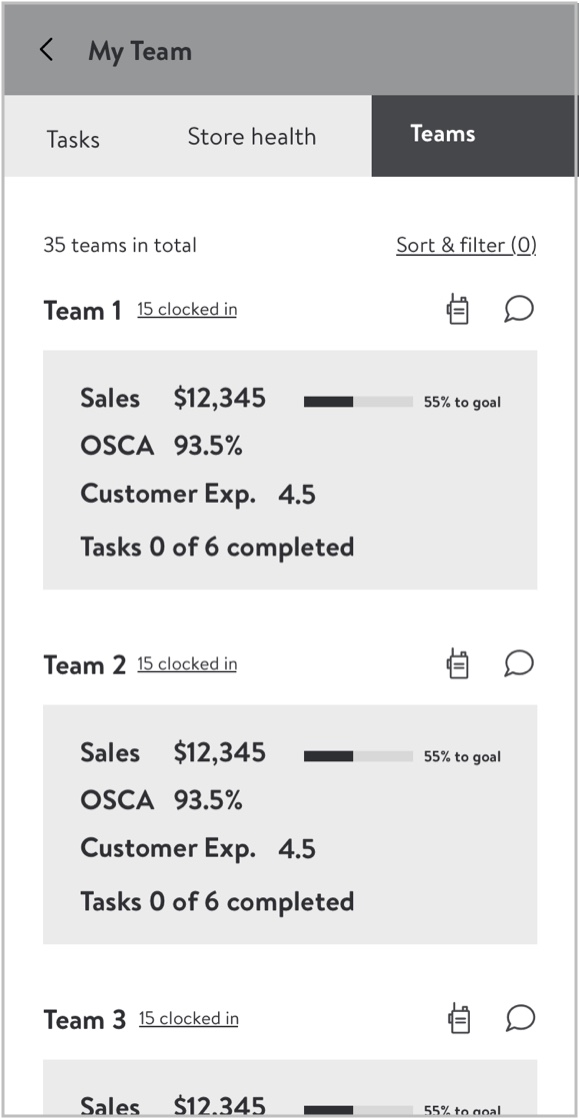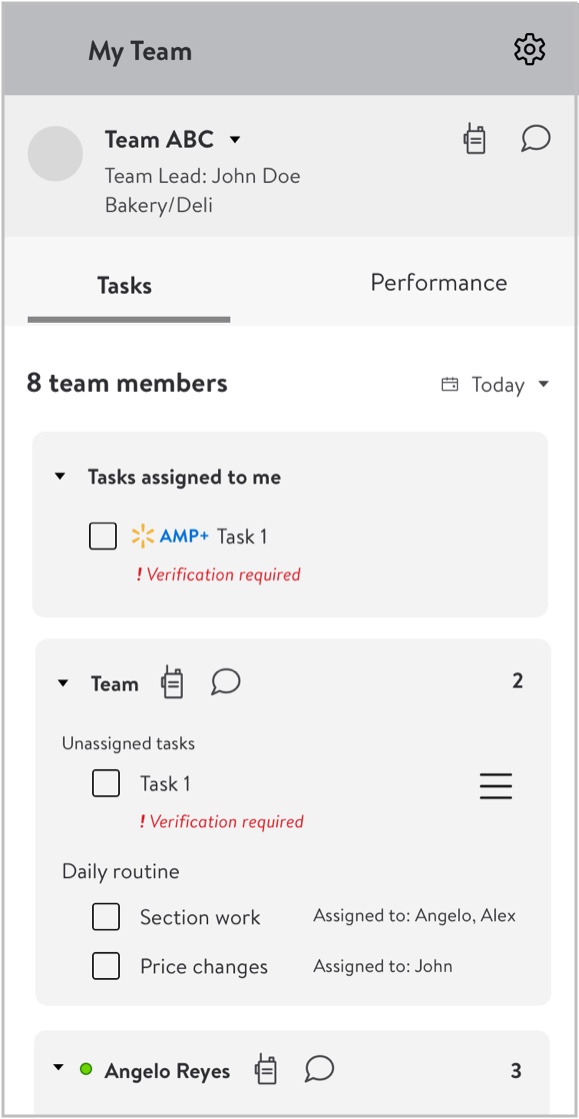 Turns out, getting things right the first time is pretty rare
However, something unexpected happened in testing and reviews…it was too complicated, and we lost sight of the forest for the trees. There were some basic, high-level pieces of information associates we're wanting that we didn't give enough prominence to or even include. Luckily that's the benefit of a sprint — you can fail early and use that information to quickly iterate and get it right.
---
Partnering with research to discover actual pain points and needs
To really understand what associates were needing and how we could solve for business' ask, we needed to take a deep dive with our research partner into what associates were lacking and how they perceived teaming.
We learned that there were some fundamental pieces of information associates needed to be more successful and build a sense of camaraderie — things like knowing who your team lead is, who's working today, both in and outside of your team, and what your team's tasks and metrics are. We also found moments of delight we could add to further that sense of teaming such as insights into your teammates' birthdays and work anniversaries.
We also discovered that while team leads generally had a positive outlook on teaming, internal and external disruptions, such as weather, natural disasters, call ins, etc., meant it wasn't always possible to have full focus and ownership over just your area. When one or more of those disruptions happens, it often means people get pulled into other teams to help for the day — leading to cascading effects for the whole store.
"One of the first things I have to do…depending on how many people have called in, I have to make sure that I have enough people assigned to OPD, even if they only have 3 scheduled, if they have more work than that to get done, then I'll move my people over." — Team Lead
---
A new North Star
With this new information, we pivoted our vision to a higher level that allowed associates to not only see their core team members, metrics and tasks, but easily cross over and help other teams when disruptions happen. To help team leads adapt to the new ways of working and meet the unique needs of their stores and teams, we set out to define key metrics that were clear and actionable to help with planning and prioritization.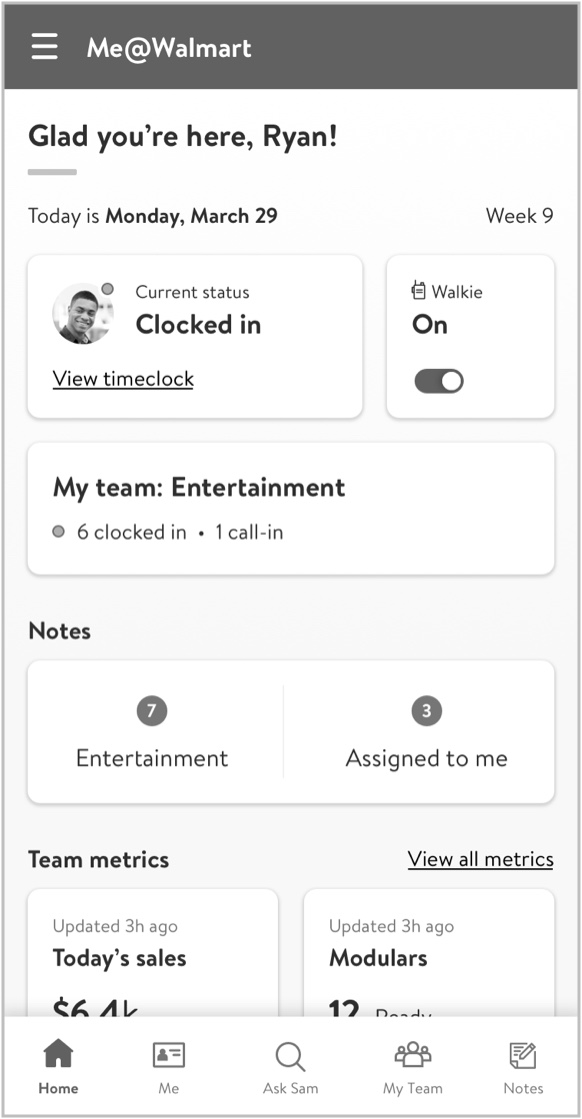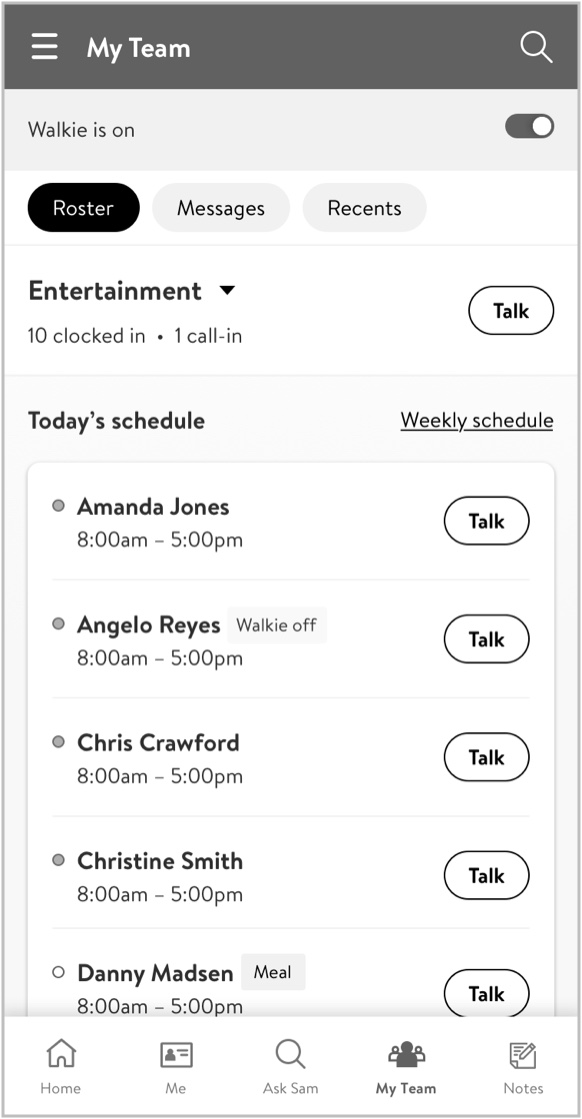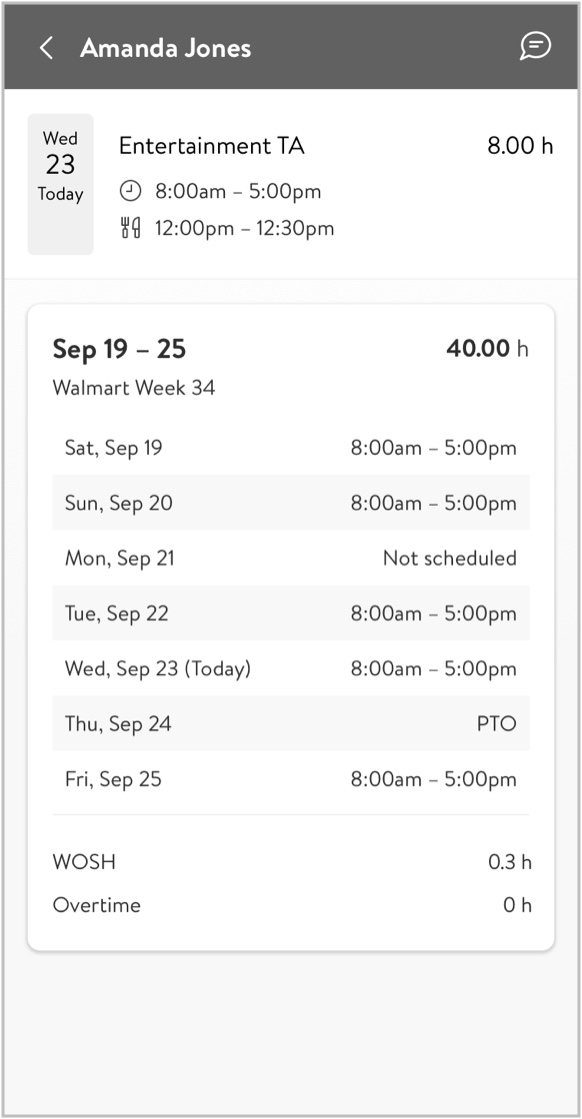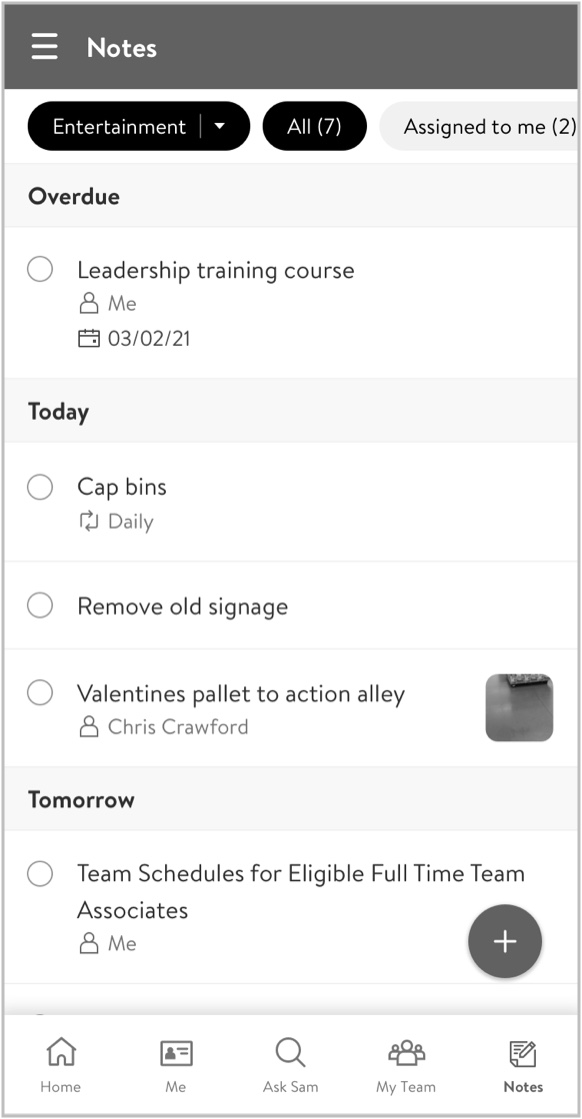 We began exploring, building prototypes and testing different iterations of how these key pieces of information could fit together and function in the greater ecosystem. These new explorations saw positive feedback and gave us the insights we needed to keep pushing forward and start working on usability tests and visual design.
---
A centralized hub for teams
Our designs began focusing on some key aspects — We know who you are…Your name, your position, what team you're on and who your teammates are. We also know what your metrics, goals and tasks are and surface that information in an easily accessible, clear and intuitive way.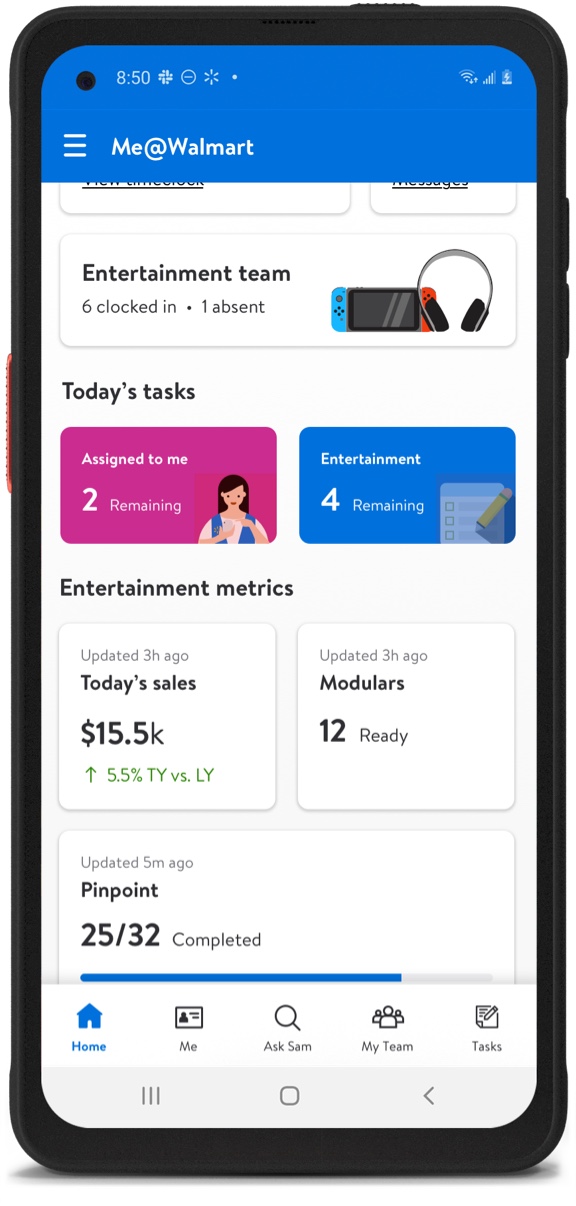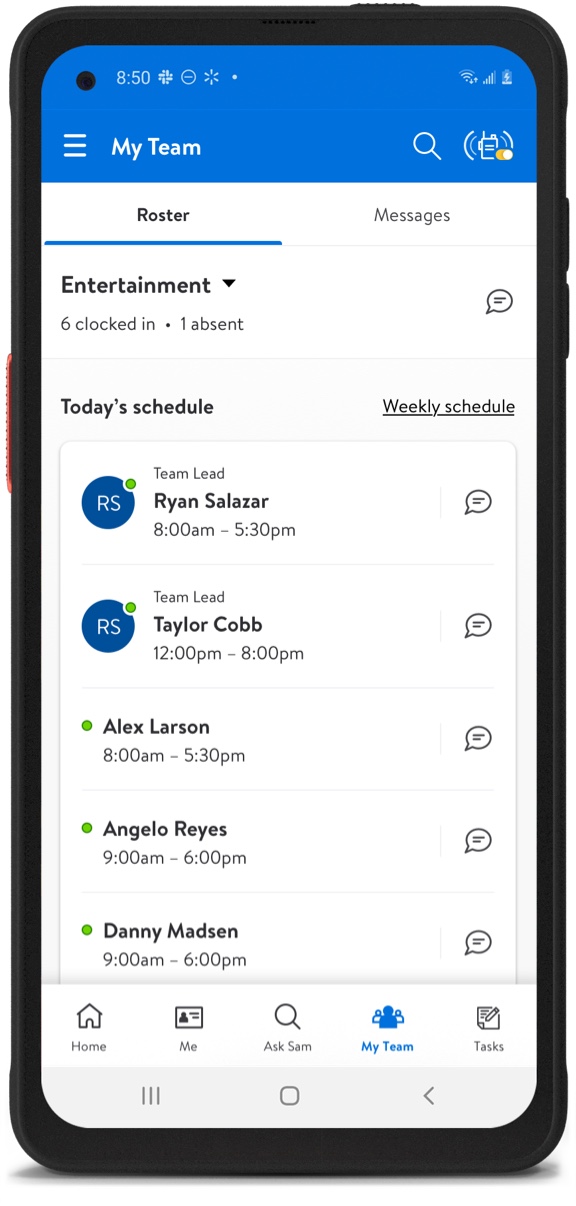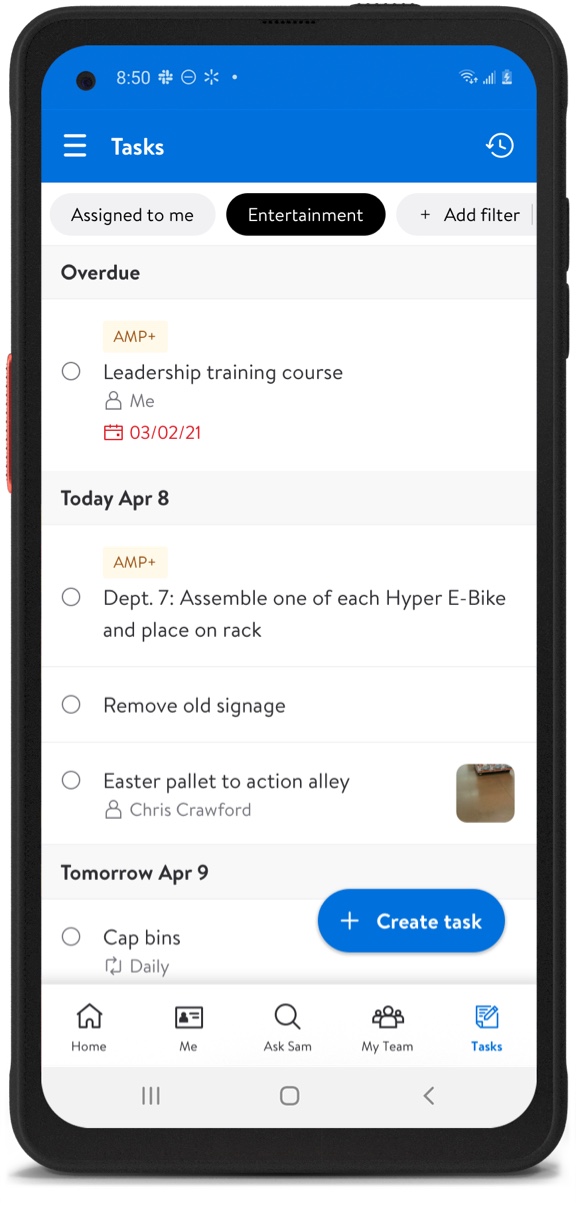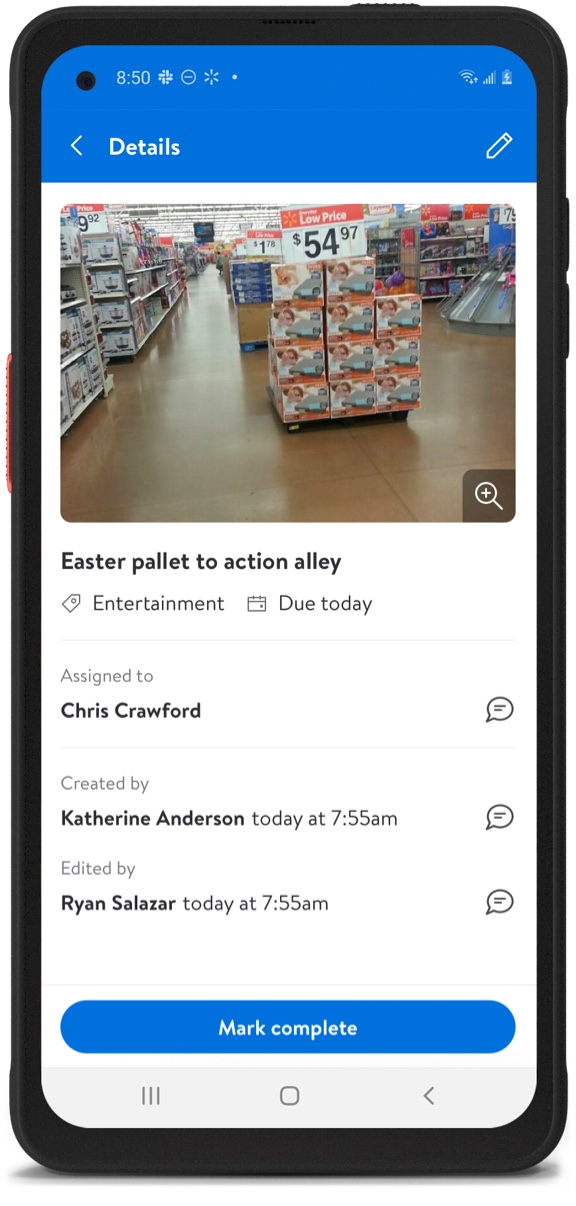 Associates can now:
1. Clock in and immediately see their team information, tasks and metrics.
2. Information is concise and tailored specifically to them — no need to sift through metrics or tasks that aren't relevant to you.
3. See who is on their team, who their lead(s) are and reach out to them.
4. Dive into their tasks for the day and see other tasks going on in their area if they want to go the extra mile.
Accounting for the unforeseen
But we didn't forget about our initial findings with real-world disruptions that cause associates to get pulled to different teams, so we gave them an easy way to reach out and help other teams when needed with simple filters that reflect how stores are staffed and organized.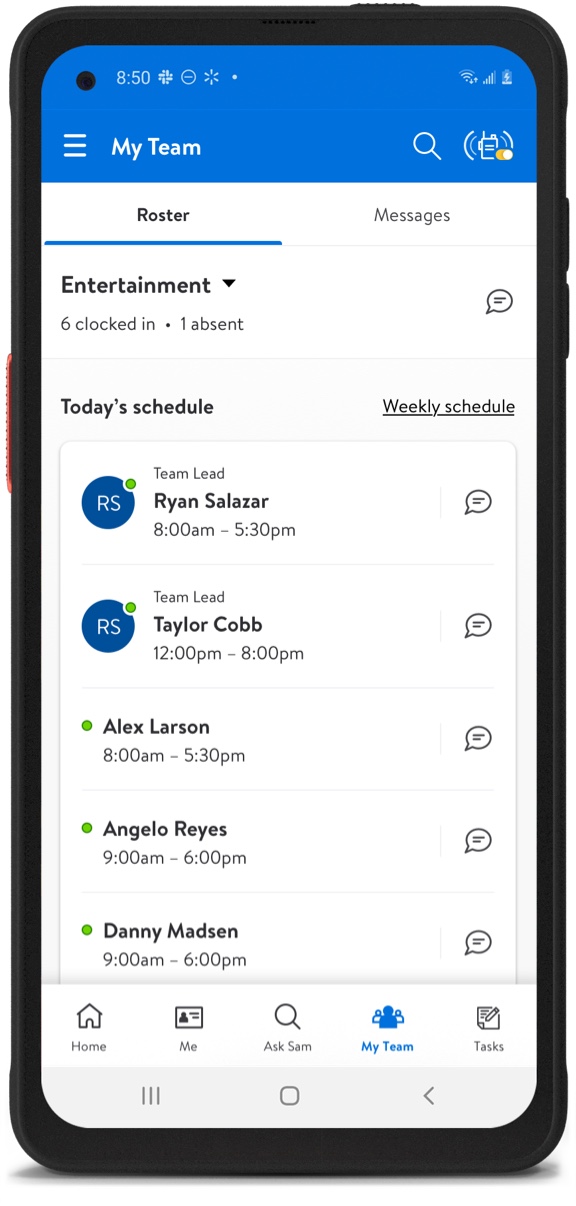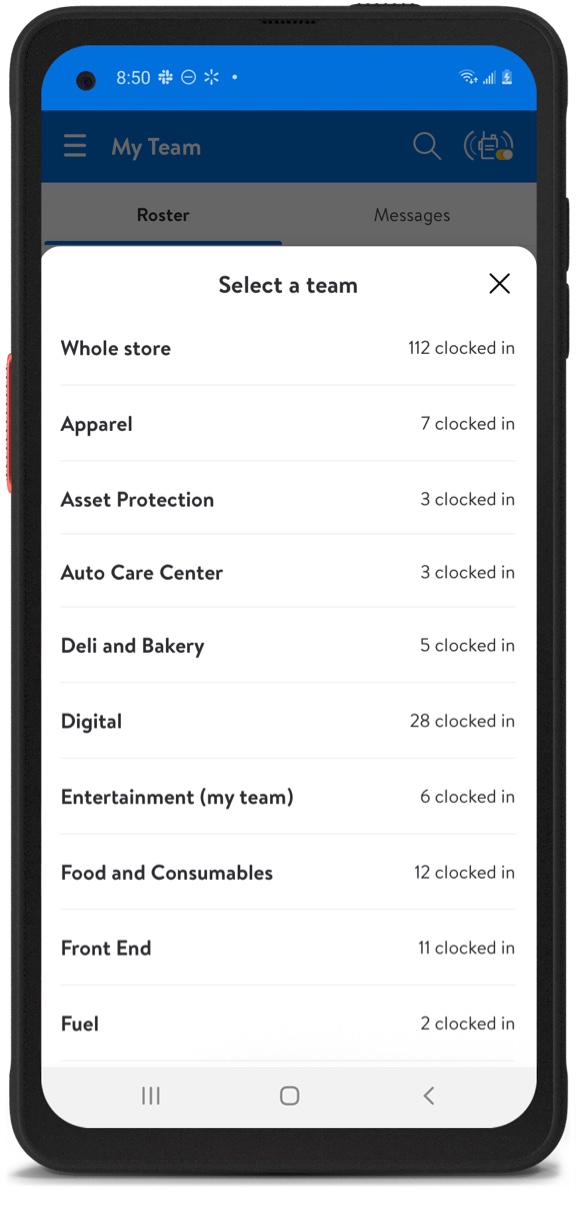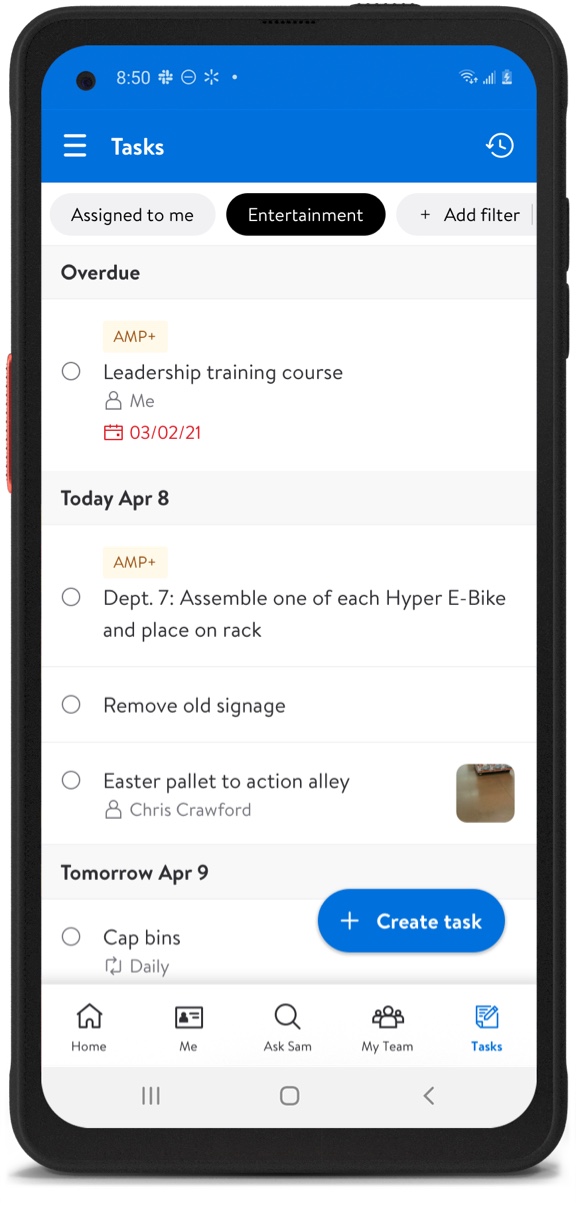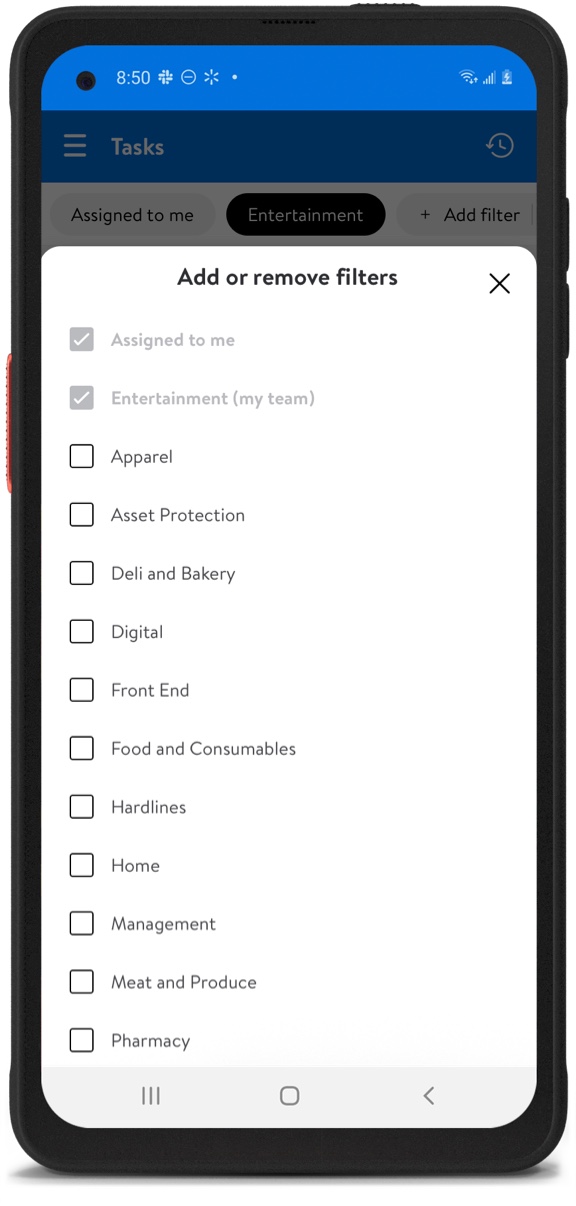 ---
Impact
While this phase of the project is still being developed and hasn't been released yet — it's carved a path for the future ways of working. By adapting to the diverse needs and management styles of 5,000+ stores, we were able to merge 4 apps into the greater ecosystem that is Me@Walmart and teaming, and we're on the way to meeting the business goal of giving associates a clear path of ownership, tasks and metrics needed to do their job.
Multiple rounds of testing iterations have given us confidence that we're arming associates with the right information they need to succeed in this new teaming model of operation. Here's some of the feedback we received during our latest tests:
"Overall, it looks like it combined Metrics that Matter with PlanIT and part of the Team app right there with the freight." – Food and Consumables Team Lead
"I like this because I really think that I can open this one app, this one screen, and I really do see almost every critical thing that I'm looking at in the morning unlike now where I'm having to go in and out of apps all morning trying to get going. It's all here." – Fresh Team Lead
"Like how it combines all the apps into one. Makes us not have to go to a bunch of different tabs or things to see what we need for the morning." – Digital Team Lead