Case Study

HELICOPTER ASSOCIATION INTERNATIONAL

Breathing new life into the largest international membership association in the helicopter community through an enhanced membership experience and unification of company programs and assets.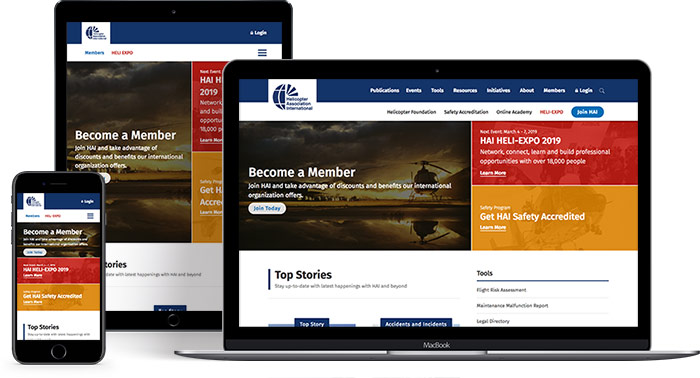 About Helicopter Association International
Helicopter Association International (HAI) provides resources and services, sets industry standard safety guidelines, and connects members, all while putting on the world's largest trade show and exhibition related to vertical aviation.
Meeting the Objective
One of biggest challenges of being the leading membership and resource website for the helicopter industry is organizing the vast amount of data, content, and programs that keep your status as the go-to helicopter resource company. For HAI, all these various resources had become scattered throughout multiple websites with completely different branding and little to no connection between them to signify they're an extension of the HAI network of programs, tools and resources. As a result, promoting content became problematic and users suffered a poor user experience from not being able to find what they're looking for or understand what they're looking at.
Step 1: Research
First and foremost, a thorough audit of all HAI has to offer needed to be undertaken. A deep understanding of the different programs and resources they have and the underlying goals of each was crucial in coming up with a solution to provide a stress-free and enjoyable user experience.
Step 2: Understanding Needs & Goals
Once an understanding of the complexity of the organization had been achieved, it was on to discovering who their users are and finding a balance between the goals of the organization and those of the end user. For HAI, it's keeping the status-quo of being the leading helicopter resource website, growing membership, and promoting their annual helicopter exposition. For the end users, it's easily finding the resources and news they need, maintaining accreditation, and connecting with other members.
Step 3: Navigation & Content Structure
Before it was time to start designing or even wireframing, the navigation structure and hierarchy of content needed to be worked out to meet the goals of both HAI and the end user. With the knowledge discovered from the previous steps, a site map was laid out along with the key points and sections that needed to take prominence. Ultimately, their navigation was divided into two sections to help differentiate HAI's main content from their sister sites and programs.

The biggest navigation challenge came in figuring out how to integrate their annual HELI-EXPO conference, HAI's main source of revenue, into the main navigation. Their HELI-EXPO conference has its own branding that changes color every year and a navigation structure worthy of requiring its own website. Due to client requirements, HELI-EXPO pages needed to reside within the main HAI website, while still retaining elements of the HAI brand and main navigation used throughout the rest of website. Quick wireframes and brainstorming sessions with the client led to a navigation structure and design that housed both HAI's main navigation and HELI-EXPO's, while still being intuitive to use on both desktop and mobile devices.

Step 4: Design
With the above tasks tackled, it was time to design the layout and look of the website. A clean, modern layout along with color schemes for different sections was utilized to allow users to easily identify various sections and resources, while maintaining consistency throughout. Key content for both HAI, internally as an organization, and those of the end user were given high prominence on the home page to increase conversion rates and user satisfaction.
Screenshots
Home Page

Photo Contest Submission Form