Case Study

GRAND FOUNDATION

Grand Foundation plays a key part in the lives of residents in Grand County, Colorado. Their role is vital to keep the community thriving, so they needed a way to increase engagement and connect with residents on a more personal level to further its philanthropic pursuits.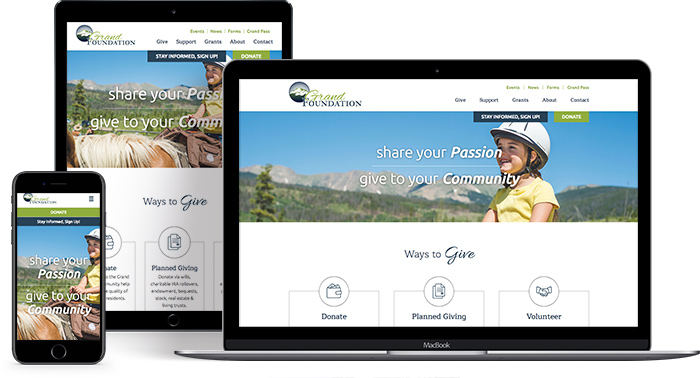 About Grand Foundation
The Grand Foundation seeks to improve the quality of life in Grand County by proactively addressing current and future needs of its residents. Since 1996, they have granted over $8.6 million and awarded 1,300+ grants to citizens and businesses — touching thousands of lives along the way.
Meeting the Objective
In order to increase engagement and attract new donors, a rebranding and website overhaul was needed. Their logo and website were outdated, unappealing, and poorly communicated the foundation's accomplishments and avenues of giving. The revamp needed to have a voice that speaks to residents and encourage them to help Grand County thrive.
Step 1: Connecting with Residents & Donors
A ski and mountain bike mecca, Grand County is an outdoor enthusiast's paradise. As a result of this, residents are inherently passionate about where they live and their hobbies. Luckily, Grand County has a way for people to share their passion with others through earmarked donations that can be allocated to the causes they want to help. To connect with donors on a personal level and help them understand this avenue of giving, the slogan "Share Your Passion, Give to Your Community" was crafted.

Step 2: Establishing Grand Foundation as the Leading Non-Profit
A company's stats and achievements, especially nonprofits, play an important part in influencing whether or not a potential customer makes a purchase, or in this case a donation. While Grand Foundation has done a lot for its community, the depth of what they've accomplished wasn't immediately clear. To aid in establishing Grand Foundation as the most reliable and dedicated resource to manage charitable donations, prominence was given to the foundation's stats and accomplishments throughout the website.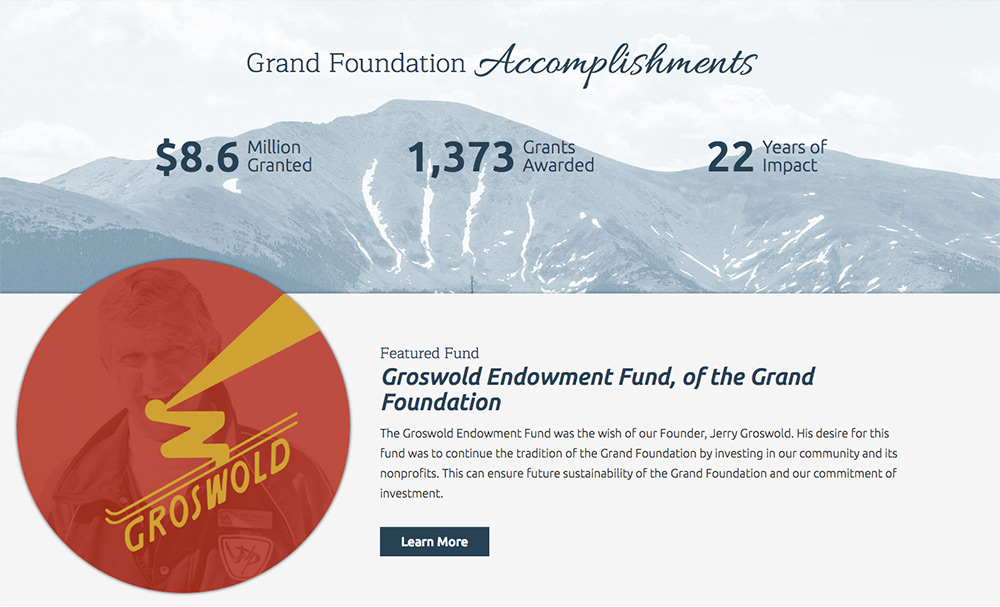 Step 3: Showcasing Avenues of Giving
Once we had an effective way of connecting with potential donors and building trust, the last step was to highlight the different avenues of giving. Not everyone who wants to give back has the means to do so monetarily. But luckily, Grand Foundation has more than one way of giving, such as volunteering. To showcase ways one can give back, users are presented with three main avenues of giving on the home page to encourage them to explore and learn more about the giving method that best suits them.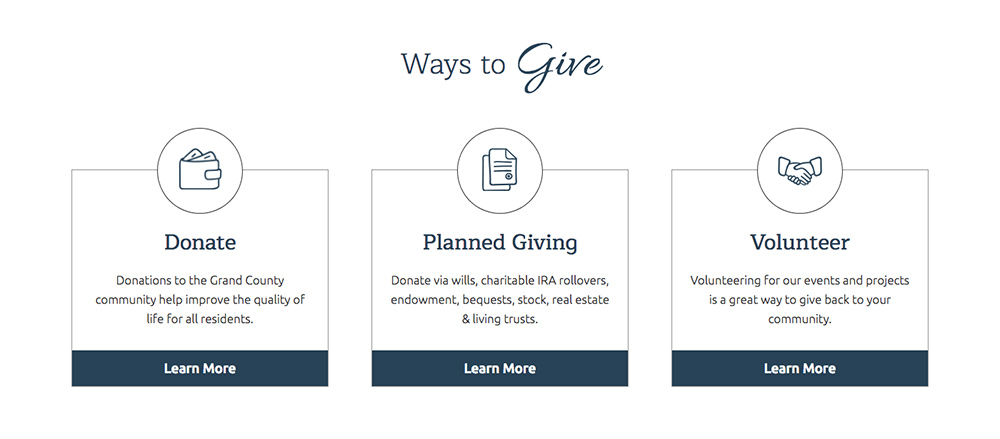 Results
After the revamp and website went live, Grand Foundation gained an increase of 60% new users to the site, a 33% increase in page views, and a 151% increase in time spent on their website.